Filter by Category
Home & Family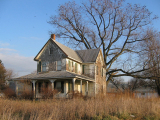 A Field Course in Old Houses
with Les Fossel

Oct 16, 2018 at 6:30 pm

, runs for 6 weeks
This is a course for people who have an old house, want to have an old house, or just love old houses! The first session is in the classroom. After that, meetings will be held in the old homes of class members. There will be as many sessions as are required to visit the houses of class members who want their houses visited (by no more than 12 people). The last class will be a potluck supper at the instructor's house, where class members can visit the historic features of Alna, see the instructor's cabinetmaking shop and barns, and delve into his reference library on early buildings (one of the very best in Maine).
NOTE: Following the first class, the day and time of future classes will be determined by class members in a way to accommodate as many individual schedules as possible.
Babysitters Training Course
with Cathy Cole

Nov 12, 2018 at 9 am

, runs for 1 week
Learn the skills and techniques necessary to be a responsible, competent and fun babysitter in a one-day class. This course will cover such topics as: child care essentials, the proper response and handling of emergency situations, behavior management, safety for the sitter, and babysitting as a business.
Students should bring a lunch and a snack. Please do not bring any electronics or phones. For students ages 11-14. A certificate is issued upon successful completion of the course.
Register EARLY – this class fills up quickly!Please note: November 12 is Veterans Day and a no school day for students.
Medicare and Understanding It
with Robert Harvey

Nov 1, 2018 at 6:30 pm

, runs for 1 week
This course will review the following areas: when you are eligible for Medicare benefits; the timeline to enroll for Medicare benefits without penalties; what original Medicare covers and does not cover; and what additional plans are available that work in conjunction with original Medicare. Financial assistance options will also be discussed briefly.
Robert Harvey is a licensed Life and Health agent with offices in Brunswick and Scarborough Maine. He has been assisting clients with reviewing and enrolling in individual health insurance plans and transitioning on to Medicare coverage for the last 10 years.