Healthcare Training
Registration Unavailable
Certified Residential Medication Aide (CRMA)
with Sally Larson

Feb 17, 2017 at 8 am
, runs for 6 weeks
This is a 40-hour course designed to teach residential care workers to administer selected non-injectable medications in a Licensed Residential Care or Group Home setting. The course provides the basic understanding necessary to administer medications safely and to document accurately. Successful completion of this course satisfies departmental training requirements for workers who wish to pass medications in certain assisted housing programs. There is some homework required with this course and students must attend all 40 hours in order to be certified.
Students are responsible for arranging their own clinical experience necessary for certification. If you are not already affiliated with a licensed facility you will need to discuss arrangements with the Adult Ed director when you apply.
There is a required application process for this course. The application must be completed and approved prior to registration. Payment plans and some fee reductions are available. For more information or to obtain an application for the class, call Central Lincoln County Adult Education at 563-2811, or email clcae@aos93.org. Due to the required application process no on-line or phone registrations will be accepted.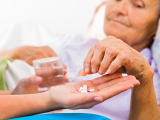 Registration Unavailable
Certified Residential Medication Aide (CRMA) RE-Certification Course
with Sally Larson

Mar 6, 2017 at 8 am
, runs for 2 weeks
Please note that the date for this class has changed fromt the date listed in our brochure. The start date is now Thursday, March 6. This is a review and re-testing for people who already hold a CRMA certificate and wish to renew their certification. The first day will be a review day with the actual re-certification done on the second day. You must provide a copy of your current license along with your registration for this course.
Registration Unavailable
Heartsaver Adult/Child/Infant CPR/AED
with LincolnHealth Education Instructor

May 18, 2017 at 5:30 pm
, runs for 1 week
Early registration is encouraged – space is limited in this class! Each year an estimated 166,000 lives are claimed by sudden cardiac arrest. That's about 455 people each day. Effective bystander CPR, provided immediately after a sudden cardiac arrest, can double or even triple a victim's chance of survival. Almost 80 percent of cardiac arrests occur at home and are witnessed by a family member. This course will cover basic adult, child and infant CPR skills as well AED (Automatic External Defibrillator) training for the lay person and non-healthcare worker who needs CPR certification. It includes American Heart Association CPR certification. Learn CPR today – the life you save could be that of your own loved one!
Full Course