Filter by Subcategory
Business & Skills Training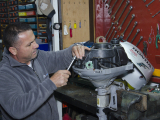 Outboard Marine Engine Repair
with Lincoln Davis

Feb 27, 2018 at 6:30 pm

, runs for 6 weeks
This class is designed for the boater or enthusiast who is looking to maintain or learn about outboard engines. No prior experience is required. Take the journey from theory of operation to hands-on repair, maintenance, tuning, winterizing and diagnostics. Topics covered include 2-stroke/4-stroke components, fuel delivery systems, lubrication, cooling, lower unit, trim and tilt, starting, charging and ignition systems. This is a hands-on class reinforced with classroom theory and flexibility to meet the needs of your product or interest. LIMITED ENROLLMENT.
Lincoln Davis is the owner of Stetson and Pinkham Inc., Waldoboro. He has been an instructor for Mercury Outboard and is anoutboard master mechanic.
Full Course
Small Business Accounting & Finance: What You Need to Know to Succeed
with Michael Leonard

Mar 6, 2018 at 6 pm

, runs for 6 weeks
Starting a new business, or contemplating doing so? Want or need to improve the financial management of an existing small business? This course will focus on the essential things students need to know to operate a business more effectively. Topics will include: accounting basics and good record-keeping; tracking income and expenses; managing accounts receivable and accounts payable; employees and payroll; managing your cash flow; preparing and analyzing your financial statements; paying your taxes and avoiding problems with the IRS; and internal controls to safeguard your cash and other assets.
Attendees who could benefit from this course: owners of new business start-ups; Individuals contemplating starting a business; owners of an existing small business who want to improve the effectiveness and profitability of their operations; individuals working in small businesses who want to advance their careers.
The course textbook cost is approximately $30 which is payable to instructor the first night of class.
Mike Leonard retired to Maine after a long career in publishing as the CFO and business manager of the MIT Press at M.I.T. in Cambridge, MA. Since coming to Maine he has worked as a financial analyst and controller at Coastal Enterprises in Wiscasset; as a finance manager for Sagadahoc County. He has a bachelor's degree in accounting and finance and an MBA.
Standard First Aid, CPR, AED
with Andrew Eckman

Mar 6, 2018 at 6 pm

, runs for 2 weeks
Cardiopulmonary resuscitation (CPR) is a technique to keep oxygenated blood flowing to vital organs of the body – especially the brain and heart – after cardiac arrest. Coupled with appropriate use of an Automated External Defibrillator (AED), many victims of sudden cardiac arrest may recover with minimal or no after effects. This course will teach participants the skills necessary to save a life: CPR/AED for adults, children and infants, and how to deal with heart attack/cardiac arrest, stroke and choking. The First Aid component teaches participants to recognize and care for sudden illnesses like anaphylactic shock (severe, life-threatening allergic reactions), head and spinal injuries, chest and abdominal injuries, diabetic emergencies, poisoning, bites and stings, musculoskeletal injuries, bleeding control, burns, heat and cold emergencies, and seizures.
This is a "lay responder" or "community" level course, suitable for the general public, as well as occupations such as Adult or Child Care Providers, Driver Education/Motorcycle Rider Instructors, Maine Guides, massage therapists, etc. Participants successfully completing the program will receive a two-year certification in these skills.
This program has been approved for Child Care and Adult Care Providers (ME DHHS), Driver Education/Motorcycle Instructors (ME BMV), Maine Guides (ME IFW), and maritime licensing (USCG). The program meets or exceeds all applicable medical and/or OSHA guidlines.
Andrew Eckman has been involved in Emergency Services since 1975, and has served as a police officer, firefighter, Emergency Medical Technician, emergency manager, and disaster manager. He has been a medical instructor for more than 25 years.
Will run