Intro to
Public

Speaking
with Clint Collamore

Feb 5, 2018 at 5 pm

, runs for 5 weeks
This course is designed to help you become a more effective and confident
public
speaker. We will demystify the process of writing, practicing, and performing a clear and engaging speech, work through...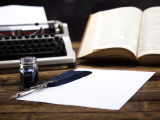 Define Your Role as Author and Create Your Writers Platform
with Lee Heffner

Feb 7, 2018 at 5:30 pm

, runs for 1 week
Today's writers must also be marketers of their work. Regardless of your
public
ation path, understand your options and the best ways to leverage your marketing materials and available tools acro...