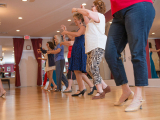 Shake it Up
Ballroom

Dance
with Megan Dinsmore

Mar 1, 2018 at 7 pm

, runs for 6 weeks
Have you ever wanted to learn to waltz, tango, or bachata but were too shy to try? Don't be! Come join the fun and learn the basics of these dances and more. We will cover the basics of five or ...
Will run
Shake it Up
Ballroom

- Spring Tune Up
with Megan Dinsmore

May 10, 2018 at 7 pm

, runs for 4 weeks
Need to brush up on your dance moves for an upcoming event or just for fun? This is the class for you. The Tune-Up is intended for those with some beginner dance experience who would like to learn a n...